Lehi's Scott Carlson elected leader of ASD board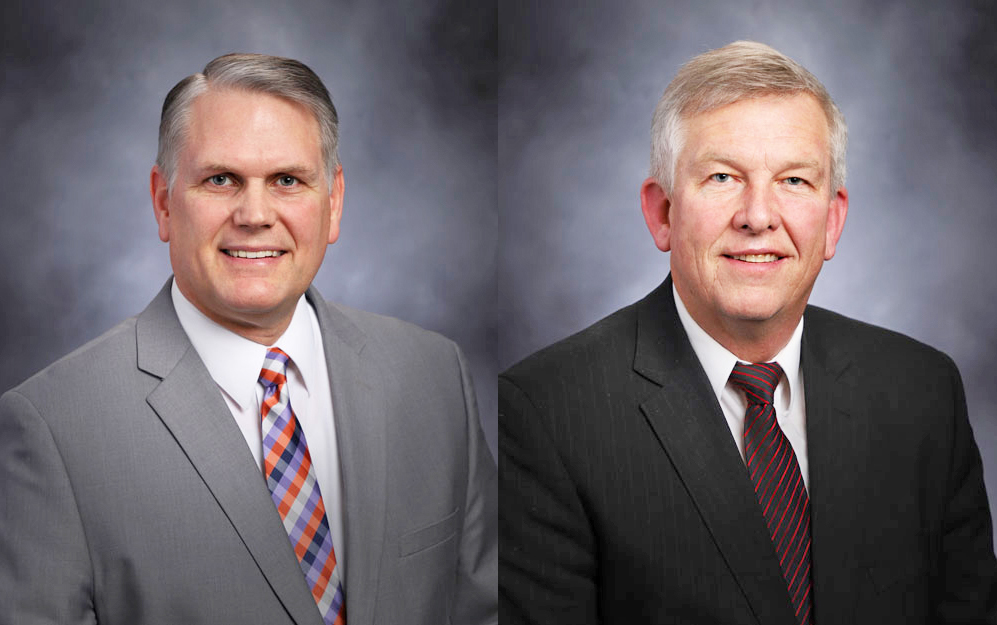 The Alpine School District School Board has elected a new leadership team. Lehi's representative, Scott Carlson, will serve as President and Mark Clement (Pleasant Grove High School cluster) will serve as Vice President.
With the election of four new members to the seven-seat board in November, the board composition changed from four women and three men, to five women and two men. Both men were elected to the leadership spots.
Support was unanimous for Carlson, who at six years of service, is the longest-serving member of the board. The vote for Vice President was split between three nominees, Amber Bonner (Lone Peak cluster), Sara Hacken (Orem/Timpanogos High School cluster), and Clement.
Each nominee took a moment to share some thoughts before the vote was taken. Bonner stated the importance of facilitating communication between the board and the district as a member of leadership and cited her experience in the area of communication between the district and community interests.
Hacken expressed interest in the position and mentioned her extensive experience in Alpine School District as a 30-year teaching veteran and in a variety of other noted capacities, but then expressed support for Clement. "Mark has more experience than I do and he is our liaison with the legislature and also with the Utah School Board Association," she said.
Hacken and Clement are both two years into their first terms, having been elected in 2016. But Clement served for an additional year and a half, from 2011-2012, after he was appointed to fill the seat vacated when Guy Fugal, who now serves as mayor of Pleasant Grove, resigned. Clement ran for the ASD board unsuccessfully in 2012, then ran again and won in 2016.
Clement seemed to expect the nomination, saying, "I have allocated for excess time.  I'm available to serve as Vice President, but I also know when to step aside and I was pretty supportive of Scott as the President." He stated the need for an elected school board member to "step aside" from their personal expertise and support district staff.
Clement declined requests to comment on his election, or on his statement at the board meeting, and referred all questions to district public relations staff.
Carlson expressed gratitude for the confidence of his fellow board members. He is a self-employed civil engineer, which gives him needed flexibility in taking on the extra responsibilities entailed by serving in leadership.
He praised his fellow board members' dedication to the interests of public education and said, "Our focus with every issue that comes to the board is to balance all of the interests involved and provide an excellent education system for the children throughout the community."
Asked whether there was any concern about how it may appear to have leadership composed of the only two men on the board, Carlson said, "The board does not have any policies specifying gender requirements for leadership positions. Board members can vote as they choose."
Susan Madsen, founder, and director of the Utah Women and Leadership Project (UWLP), said that it's common to see more men than women in leadership positions due to a variety of factors. Even in education, where women dominate heavily in total numbers, "you still tend to have more men at the top." Madsen said women will often defer to men in leadership roles.
Board member Wilson expressed support for the new leadership, saying that she personally nominated and supported Hacken "because I know her and respect her," noting that she is "an outstanding educator."
Wilson also said that Clement "could not have been elected without the support of other women on the board. He is the board member with the most experience, after Scott Carlson." While she recognizes gender equality as an important issue, according to Wilson, "nothing in our interactions thus far on the board raises any question in my mind of gender bias."