Local All-State art winners featured at Springville Art Museum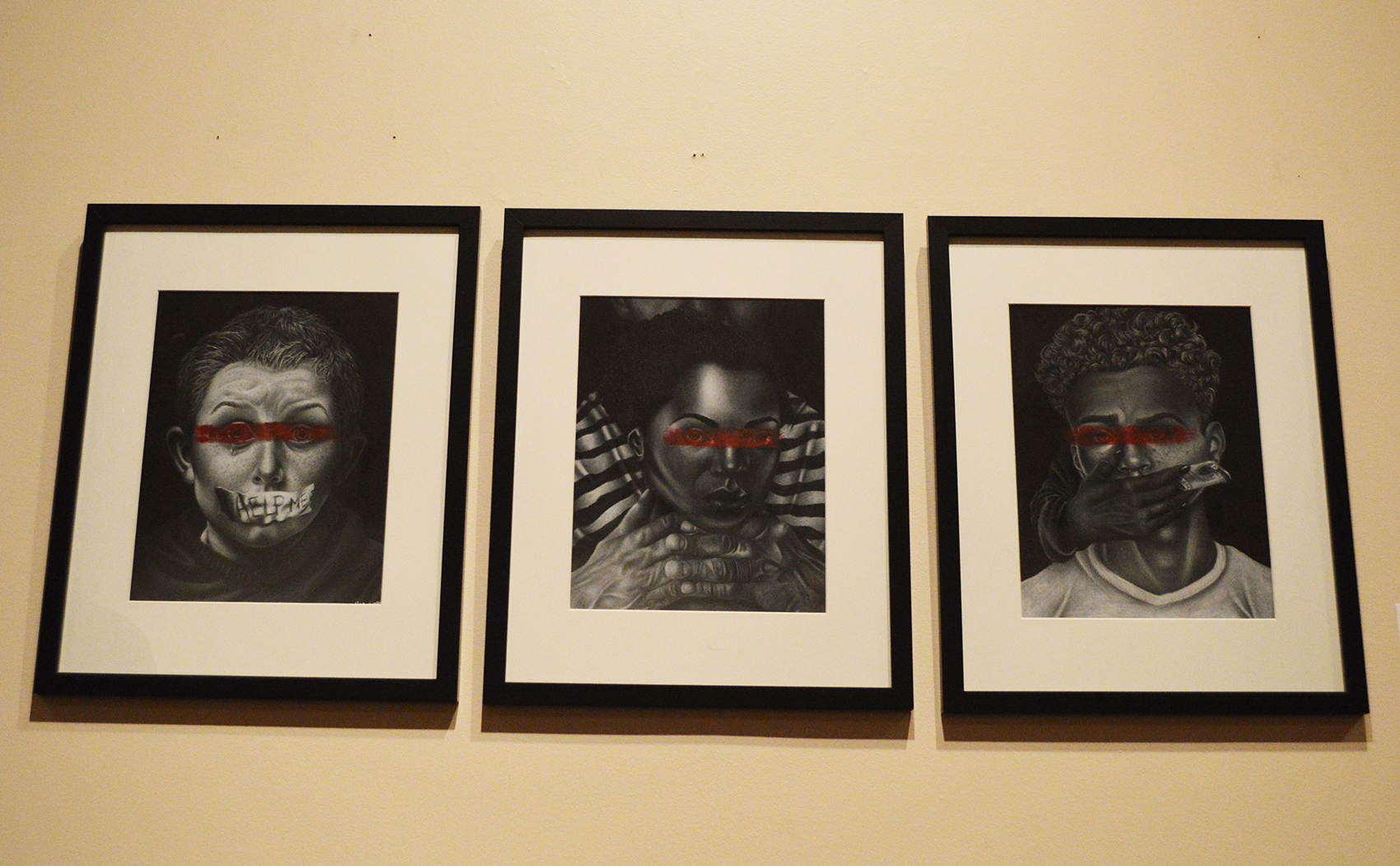 The 47th Annual Utah All-State High School Art Show is on display at the Springville Art Museum now until March 22, 2019. On Saturday, February 9, an awards ceremony was held, along with a reception, to honor the talented artists featured in the exhibit.
Jurors for the annual show narrowed a field of 1,016 entries from all over the state of Utah to 337 works now on display. The city of Lehi was represented well with several Skyridge High School and Lehi High School students' pieces in the show. Megan Mortensen, a junior at Skyridge High School, received the Juror's Choice Award for her trio of drawings, "Breaking the Silence." In her explanation of the piece, Mortensen explained, "The purpose of this series is to bring awareness to domestic violence, and to create a visual representation of the lasting effects of abuse. The portrayal of diversity displays domestic violence as not being socioeconomically fixed. 'Breaking the Silence' acts as a wake-up call to those seeing abuse around them, either as a victim or bystander."
Lehi High School Senior Hailey Caron earned the Masters Academy of Art Scholarship for her mixed media piece, "The Library of Congress." Caron was inspired by a trip to Washington D.C. in the summer of 2018. "The Library of Congress was one of my favorite buildings to experience, and I immediately felt a strong desire to replicate it onto paper – so I could always look back and remember what I experienced," Caron said of her ink and marker piece. She spent over 30 hours on the precisely detailed drawing.
High school artists and their families wandered around the busy Springville Art Museum after the awards ceremony on Saturday. A trio of high school musicians provided background entertainment and the refreshments were gummy candies and pretzels. One Skyridge art student was emotional seeing her work, "The Raven and the Crown," framed and displayed at the museum. "I'm in AP Art with Mr. Larsen and it was an assignment to submit an art piece for this show. It wasn't guaranteed to get in, so this is pretty cool," said Lindsey Burker. "I love birds, and I really love how ravens look in terms of their color – there's so much variation in them even though they're all black."
The Springville Art Museum released the following statement, "The jurors were impressed with the students' innovation, creativity, and thoughtfulness. As always, they wished they could accept more works than the show can accommodate. Thank you for sharing your work with us. We know it is vulnerable to enter a show like this and encourage you all to keep making great work and entering shows!"
Some of the works on display at the Utah All-State High School Art Show are for sale. The exhibit closes on March 22, 2019, at the Springville Art Museum, 126 East 400 South, Springville, Utah.