Four Lehi Business Employees Administer CPR—Recognized with Community Lifesaver Award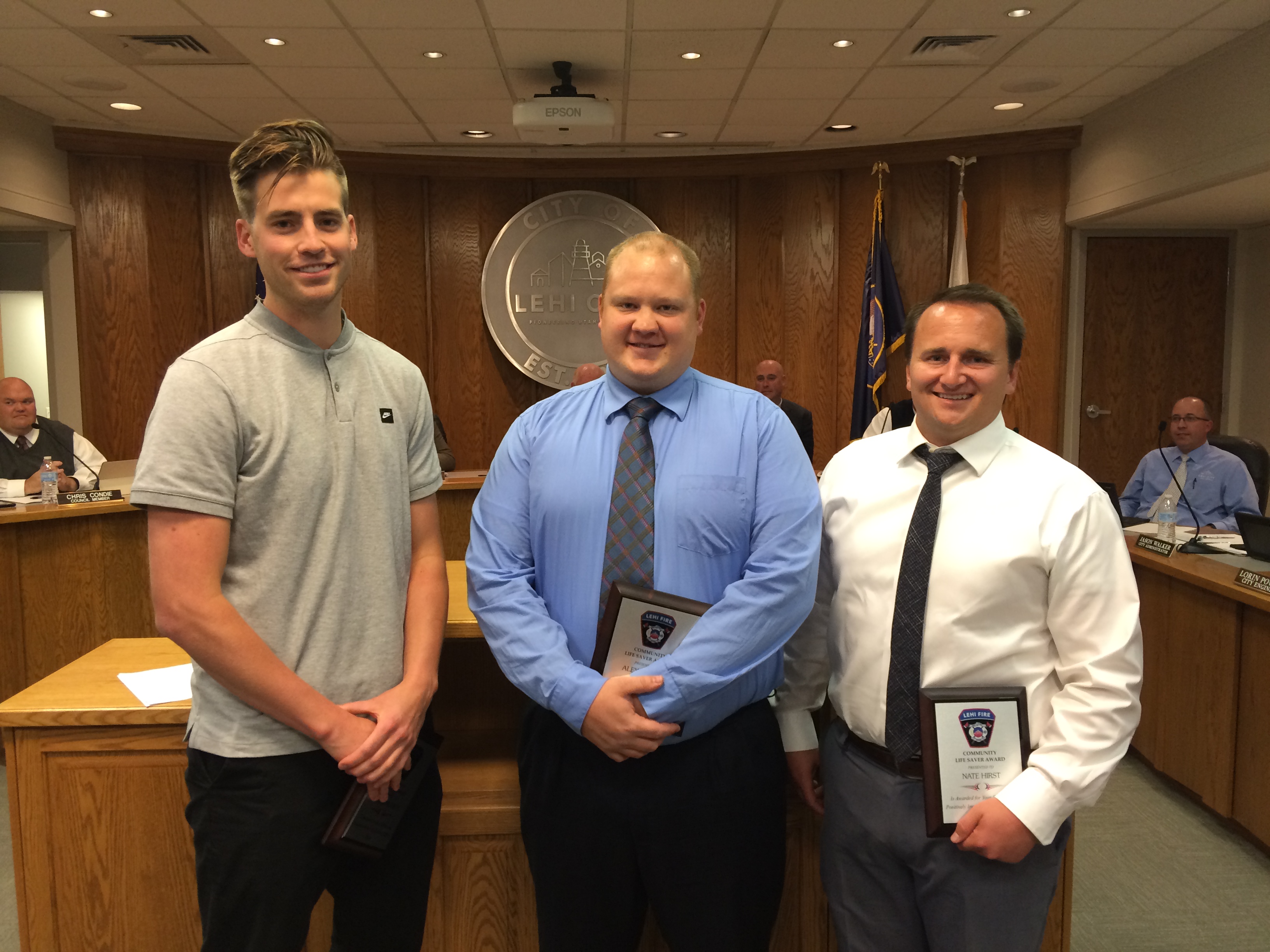 Lehi City, Utah | September 13, 2016 — Four men received the "Community Lifesaver Award" from the Lehi Fire Department for administering CPR to a victim of cardiac arrest. Nick Sorenson, Nate Hirst, Alex Manges, and Kirk Joyner were recognized for their life-saving actions during the city council meeting on Tuesday, September 13.
According to Chief Jeremy Craft, Lehi Fire Department, paramedics were dispatched to Blender Bottle on August 19, 2016, to respond to a 64-year-old man suffering from sudden cardiac arrest. Sorenson, Hirst, Manges, and Joyner immediately stepped in and began administering CPR before paramedics arrived. Their actions are attributed to saving the victim, who is currently in a care facility due to damage to his chest from CPR. This is extremely common after CPR is administered. He is expected to have a full recovery.
According to the American Heart Association, approximately 335,000 adult coronary heart disease deaths annually are due to sudden cardiac arrest. Effective bystander CPR, provided immediately after cardiac arrest, can increase the chance of survival from 10% to 33%.
Lehi Fire Department, in cooperation with Mountain Point Medical and PulsePoint, is launching a program to encourage bystander response. Individuals trained in CPR can register with PulsePoint. When there is a cardiac arrest emergency, PulsePoint will notify bystanders in the area via text message, allowing immediate response while waiting for EMS to arrive.
According to Chief Craft, it is extremely important to become trained in CPR. Residents who are trained and choose to take action can be vital in helping victims of cardiac arrest survive. Lehi City Fire Department offers monthly CPR training for adults and quarterly CPR training for youth babysitters. For more information, contact the Fire Department by calling (385) 201-1081.