Lehi Thrills Homecoming Crowd with Victory over Pleasant Grove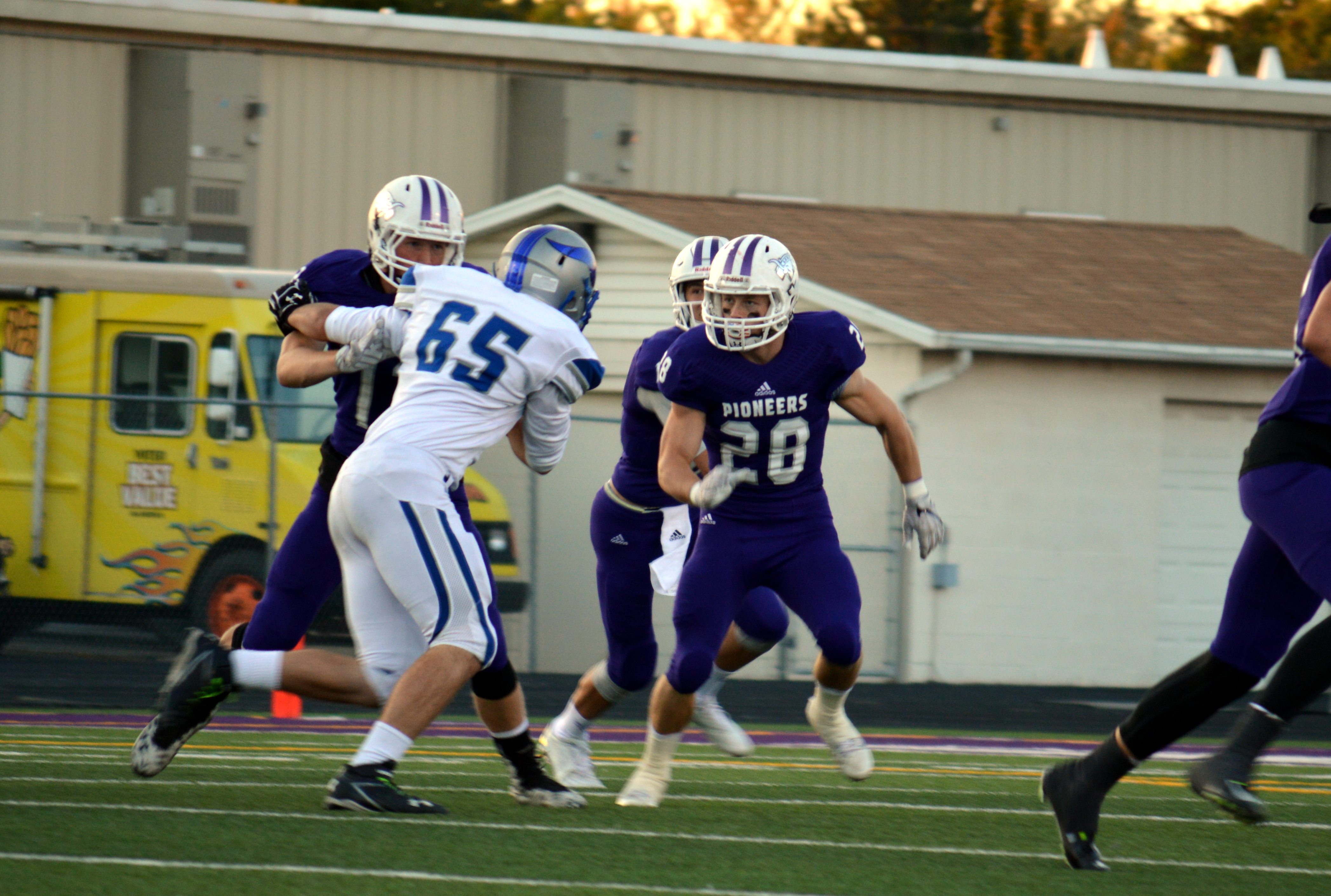 Present, former, and future Lehi Pioneers were treated to a thrilling Homecoming football game Friday night against the Pleasant Grove Vikings. The Vikings were the first to put points on the board with a 40-yard field goal by Jayson Mchugh. Lehi made an impressive drive to within 10 yards of the Viking goal line just before the end of the first quarter. In the first play of the second quarter, Kade Moore caught an 8-yard pass from Cammon Cooper for Lehi's first touchdown of the night. Kicker Lincoln Bunker made the extra point.
With 7:11 minutes left in the second quarter, Pleasant Grove scored again when Dayne Christiansen caught a 23-yard pass from Jake Jenson. Lehi quickly answered with a 7-yard touchdown run by Grayden Hadfield. Lincoln Bunker, once again, kicked the extra point. Both defenses tightened up later in the second quarter when Lehi's Dallin Holker intercepted a Viking pass on their third down. Pleasant Grove returned the favor by intercepting a Pioneer pass with 2:31 left in the half. Zach Bingham brought the crowd to its feet by knocking down a pass by the Vikings, almost intercepting it. Lehi got the ball back and with seconds left on the clock, quarterback Cammon Cooper ran in a touchdown for Lehi. Lincoln Bunker's completed extra point brought the halftime score to 21 for Lehi and 10 for Pleasant Grove.
During halftime, the Lehi High School Drill Team, Cheerleaders, Ballroom, and Dance Company performed together. The Homecoming Royalty paraded in front of the crowd in open cars. And for the "Miracle Minute," tin cans were passed around both sides of the crowd to collect money for Shelby Luce. In one minute, Lehi and Pleasant Grove fans collected $1,157.15 for the Luce family.
After several exciting plays by both teams in the third quarter, Pleasant Grove's Caden Bancroft caught a 27-yard pass from Jake Jensen for a touchdown. The extra-point kick, however, was no good. Lehi responded with a huge 31-yard pass from Cammon Cooper to Kade Moore, who danced away from defenders and scored a touchdown. Lincoln Bunker's extra point kick was good, bringing the score to Lehi 28, Pleasant Grove 16 in the third quarter.
The fourth quarter was quiet, but for all the penalties called on the Pioneers. The Vikings' Dayne Christiansen caught a 42-yard pass from Jake Jensen that resulted in a touchdown for Pleasant Grove. Jayson Mchugh kicked the extra point, bringing the Vikings to within striking distance of the Pioneers with only 1:32 left on the clock. Lehi's Carson Terrell made a 15-yard run, which gave them breathing room to run out the clock and gain the Homecoming victory. The final score was Lehi 28, Pleasant Grove 23. This is the first time Lehi has won a football game against Pleasant Grove since 1972.