Fall Archery Hunt Nirvana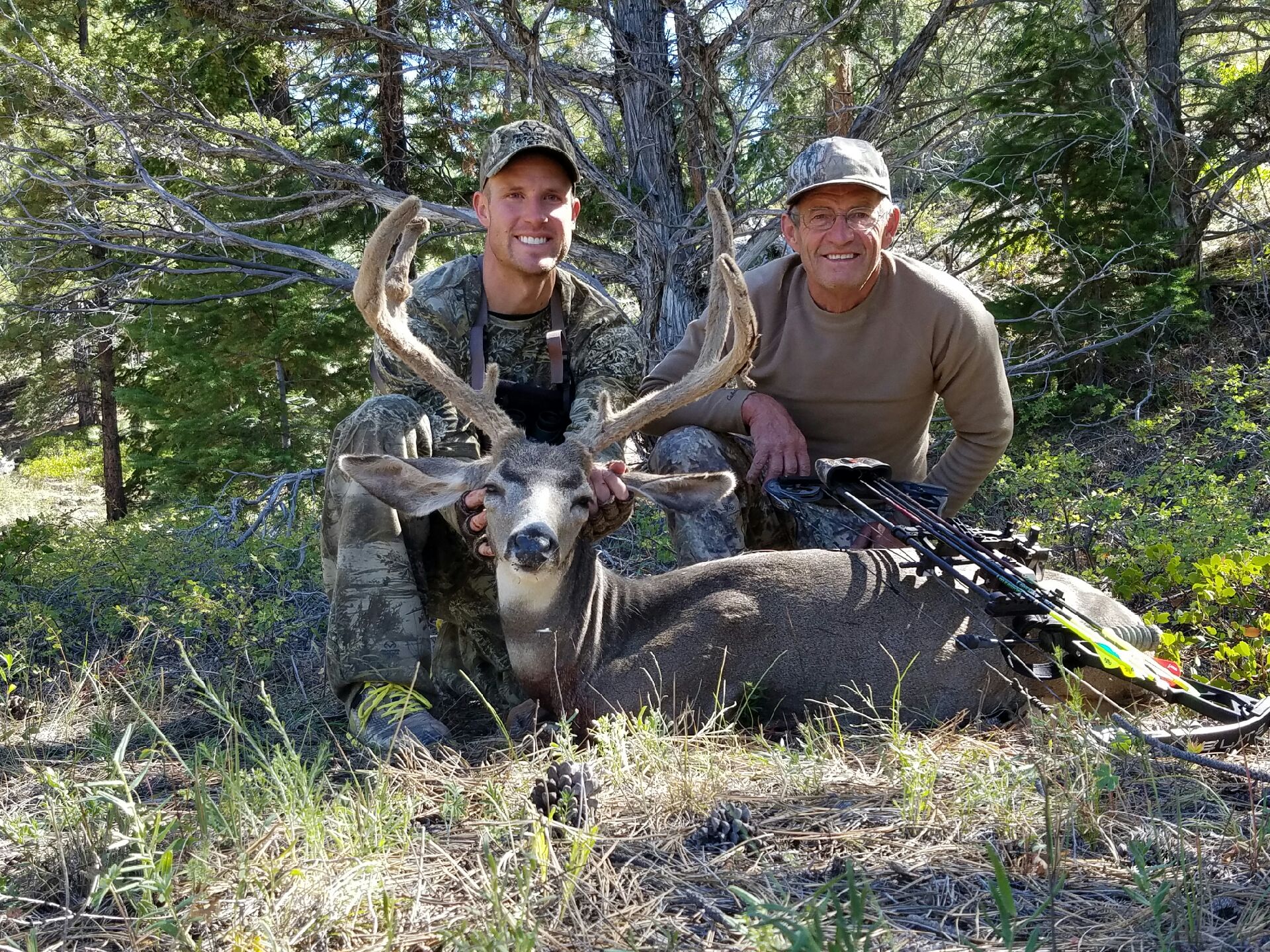 Hi my name is James and I am an addict, an archery hunting addict that is, and I refuse to take the cure!
Ever since the state of Utah opted to go with a "choose your weapon" mandate, I chose to hunt with archery tackle and have not regretted this choice in the least. With almost a month to pursue both deer and elk with my bow, I can get out in the field or forest many more days than the gun-hunting masses. I love the longer days and milder weather archery hunting provides. On top of that, during archery season, especially midweek, there seems to be much less hunting pressure.
This past season was very exciting for my family and friends as my son Bo and I had spent several prior weekends scouting and had located quite a few prospective buck muleys to focus on. As usual, a good friend from Idaho, Dave Scott, joined us in deer camp. Opening weekend finally arrived with much anticipation– like Christmas morning when I was just a youngster.
Everything needs to fall into place perfectly for an archer to get the opportunity to fill his or her tag, and the opening weekend passed with no one getting the chance. On Monday morning Bo and I went to a favorite spot to try and glass up one of the bucks we had spied during our scouting trips. We separated at daylight to try and increase our chances of finding a buck to stalk. About a half hour later I was at a high point looking back towards where I thought Bo might be. I found him in my binoculars waving at me to come.
I hustled down the ridge to find him with his spotting scope set on a very respectable buck bedded several hundred yards away on the same ridge we were located. "Do you want to stalk him?" he offered. Never being one to turn down a gift, I responded, "sure I do" (what a great son he is) — and the stalk was on. A half hour later I was easing up the hillside where I figured the deer would be when I suddenly spotted the heavy, velvet covered rack bobbing up and down as the big buck fed toward me at 35 yards!
I slowly nocked an arrow and got ready to shoot. When the rack swiveled to look away and the deer exposed his vitals, I drew the string and locked the sight pin on the crease behind the big boy's shoulder. I would like to say the arrow flew true and hit the buck in the desired spot, but that's not what happened.  I watched in agony when the arrow glanced off the top of his back and sailed harmlessly into space.
Thinking I had blown my chance when the deer bounded away, I was shocked to see him stop and walk back towards me to see what was going on. I carefully nocked another arrow–he was still there when I drew back a second time. I let the string go and watched the arrow fly true this time and knew the buck was mine!
 Later that week Dave Scott found another area with some big bucks and on Wednesday morning he connected on a nice one while stalking through a patch of aspen where he had watched the bucks bed down. The pack out required a considerable effort, but with two of us working we were back to camp well before dark. Bo finally was successful in notching his tag on a respectable buck with a unique 2-point rack later in the hunt.
A good time was had by all and the fact that we put some excellent venison in our freezers was icing on the cake!