Lehi Mom Represents New Weapon in National Ad Campaign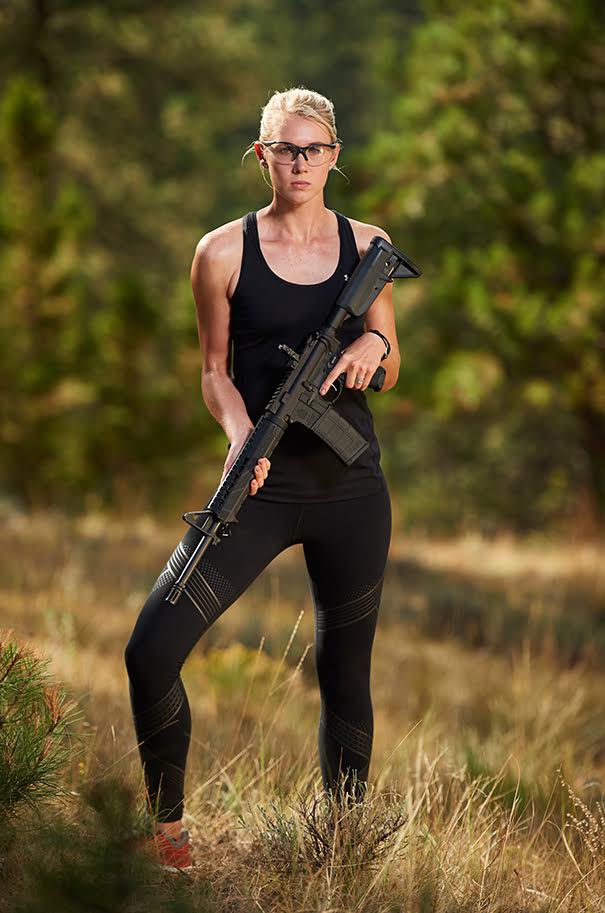 Springfield Armory released an AR15 rifle, "The Saint," on November 1 and one of the faces of their new media campaign is Lehi's Katelyn Ely. The advertising agency, Ackerman and McQueen, found Ely through her Instagram account, "Second Amendment Mommy." Ely has been around guns her whole life. Her husband, Tyler Ely, had a business designing and selling holsters for concealed carry weapons. On her Instagram account, Ely modeled fashionable and feminine clothes that could accommodate a holster, as well as anything firearm related.
More and more women are purchasing firearms and Springfield wanted to show that an intimidating-looking weapon like the AR15 rifle is one that everyone can use. Katelyn Ely is a petite 29 year-old mother of two. She was one of over a hundred people who auditioned to be part of the advertising for Springfield's new gun. The identity of the new rifle was kept top secret until November 1. Ely was chosen after weeks of demonstrating her proficiency with different weapons.
Ely is proud to represent mothers in the ad campaign, and is one of six people chosen by Ackerman and McQueen. The slogan of the Saint media campaign is "Defend Your Legacy" and each of the six people has a story to tell. On the Springfield Armory website, Katelyn Ely explains, "I always had the mindset to defend myself, I just didn't have the ability." Ely witnessed her mother defending herself against an attacker and that motivated Ely to become proficient at shooting and to practice Muay Thai, one of the martial arts. Ely now feels that she is more than capable of protecting herself and her children.
The next few months are going to be busy for Katelyn Ely as she travels the country making appearances in connection with the Springfield Armory Saint. She'll be at the Las Vegas "Shot Show" in January 2017 showing off her skills and, no doubt, inspiring other young mothers.