Lone Peak art instructor, not your average artist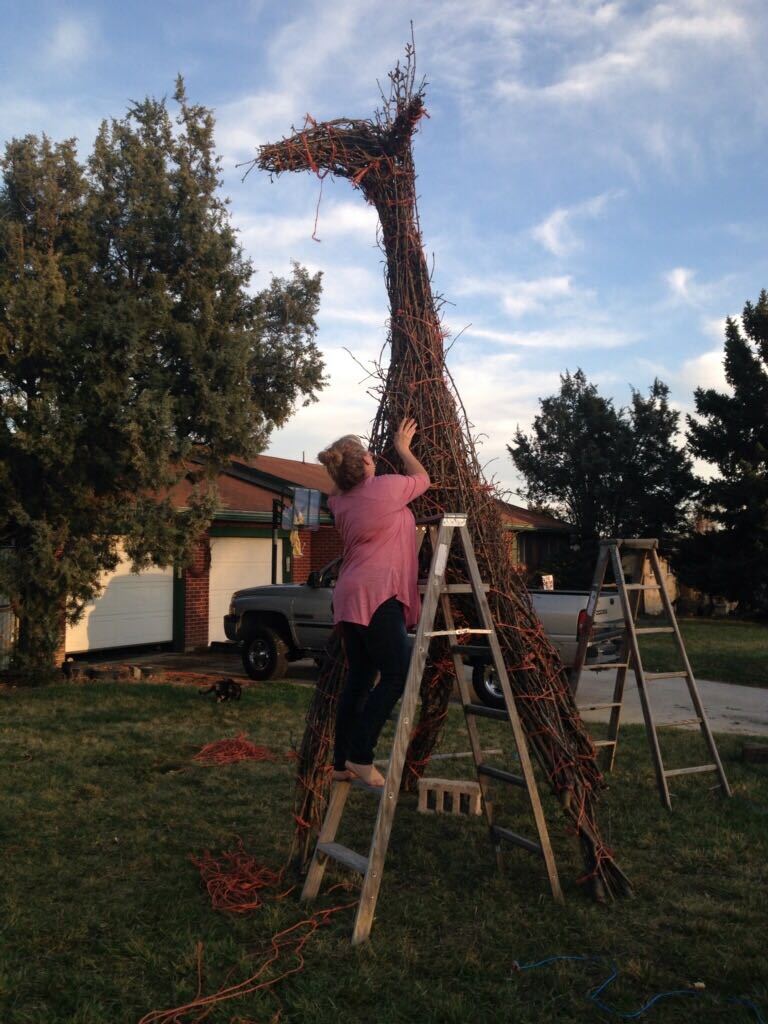 When Randy Shepherd pruned his orchard recently, he left a wheelbarrow full of twigs in his yard. These twigs were headed to the green waste dumpster. Michelle, Randy's wife, had other ideas. She grabbed a handful of twine and started constructing a giraffe. "It is my first twig and twine sculpture," says Michelle proudly. The project was first laid out on the front lawn of the Shepherd home. It grew and grew until it reached thirteen feet tall. The sculpture has turned the heads of motorists as they drive by. It has been the talk of the neighborhood and has now been sold to an art connoisseur.
This is only one of a myriad of art projects by the beloved art teacher at Lone Peak High School. For over 28 years, Michelle taught, encouraged, inspired, and loved her students. Health problems forced her to retire early. As a legacy to her talent, a paper mache figure of a knight graces the entrance of Lone Peak High School. When first observed, the sculpture looks like a bronze statue. The project took weeks to complete but stands as a labor of love from Michelle to the Lone Peak students and patrons.
When much of her energy was compromised by multiple surgeries and other health problems, Shepherd occupied her mind and hands by crocheting. She has stacks of beautiful afghans, Easter bunnies, rugs, purses, and even her favorite: mermaid throws. She has opened a home-based business, Granny Shep's Boutique, where she sells her hand-crafted items.
Her artistic talent is multi-faceted. She is as comfortable drawing or painting as she is sculpting or using found objects to create whimsical figures. One of her favorites is the "Medical Supply Man." She made him with medical paraphernalia from her medical procedures, including C-Pap tubing, bandages, pill bottles and any other medical supplies she could find. He is a humorous reminder of her long ordeal with health issues.
While waiting for a jury duty assignment, Shepherd made a beautiful sketch of a young woman. Her brain is always conjuring up another art project using whatever inspiration and medium available. Her health has returned, and she is finding middle age a rewarding and fun time to be alive. Each day brings new ideas and new projects. "I love life and what it holds in store," she beams.
This slideshow requires JavaScript.