Class of 1948 Celebrates 70 years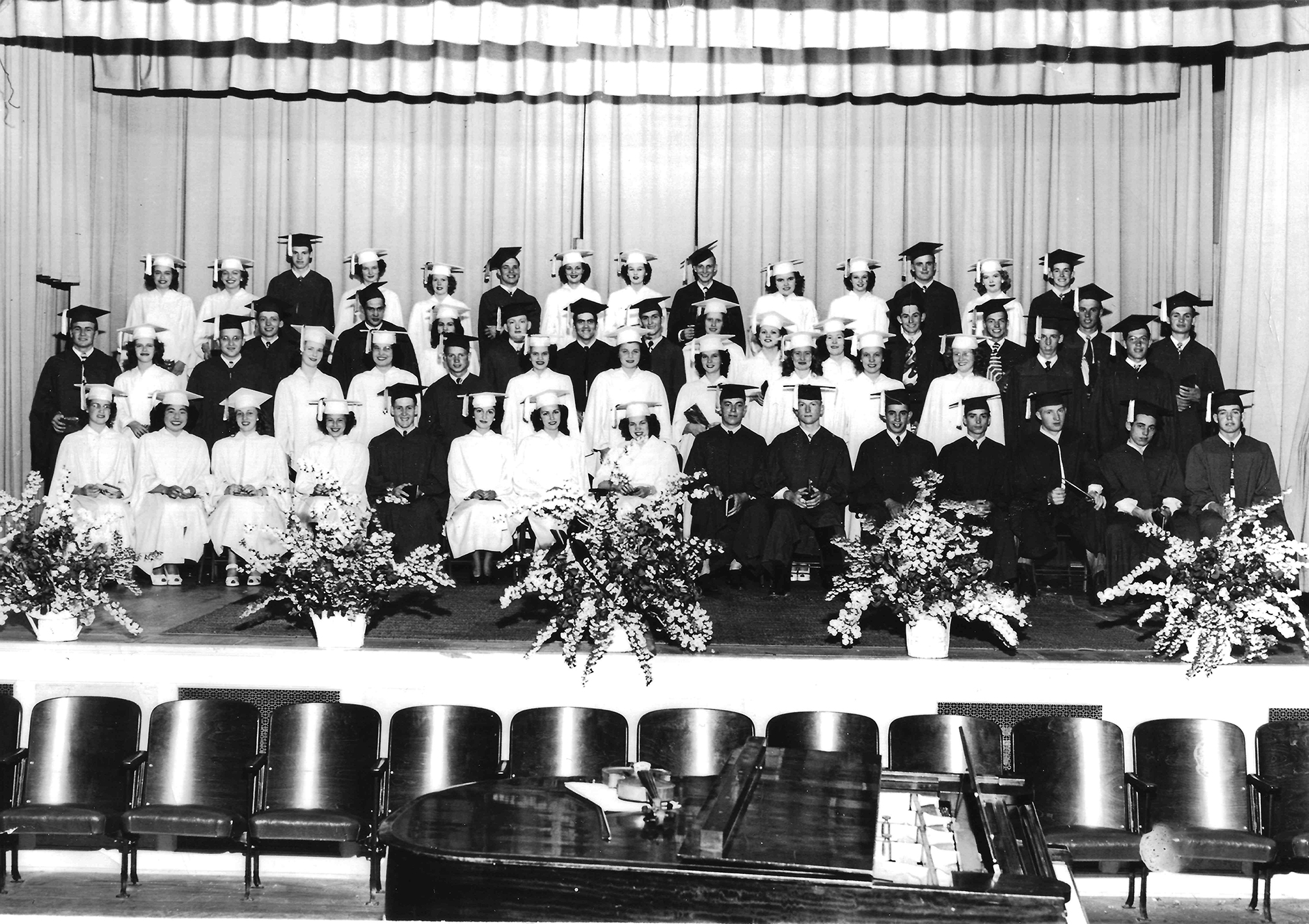 In 1948, sixty students marched across the stage in the majestic Lehi Tabernacle to receive their Lehi High School diplomas. This year only a handful of classmates remain to celebrate that momentous day.
In a program prepared for their 50th anniversary the following observations were made, "We were born before television, before penicillin, before polio shots, frozen foods, plastics, contact lenses, Frisbees, and "the pill." We were before radar, credit cards, split atoms, and laser beams. We didn't wear pantyhose or have dishwashers, clothes dryers, electric blankets, air conditioners, drip-dry clothes…and before man walked on the moon."
Wayman Winslow was Senior Class President, Robert Allred was Valedictorian and Nadine Jones was Salutatorian. Principal Lloyd B. Adamson presented the diplomas to the members of the class (He was affectionately called "Pounder" by some of the students). Thomas Powers, Alpine School District Board Member, awarded the diplomas.
One of the unique activities members of the student body participated in was a program called "Inquiring Editor," a trivia show sponsored by the Salt Lake Telegram and KDYL radio.  Students from Lehi High School would complete questionnaires about current events. Those who scored the highest were chosen to be part of a program moderated by the Editor of the Salt Lake Telegram, H.F. Kretchman.
The program was broadcast on KDYL radio. For two years, students from Lehi High School were chosen to be part of the program. In 1947 the students selected were John Meyer, Nyle Cox, Orlo Brems, Paul Comer, Barbara Worlton, Fay Smith, Elaine Adamson, and Phyllis Oxborrow. In 1948, students selected were Jeri Hitchcock,
Jedda Mercer, Phyllis Oxborrow, Wayman Winslow, Faye Smith, Lee Godfrey, Hal Holmstead, and Robert Allred. This was a highlight of the school year for these students.
Reminiscing about graduation, Phyllis Oxborrow said, "Frank Shaw, Lehi High School's music director decided to play The Triumphal March from the opera Aida instead of the traditional Pomp and Circumstance during the graduation march to receive diplomas. Some of the potential graduates were so upset they let a calf loose in the downstairs hall. There was quite a mess to clean up."
Some traditions never change; pranks are pulled, friends go their separate ways, but high school graduation will always be indelibly etched in our memory.